We are a 501(c)3 nonprofit organization dedicated to providing information about resources . . . 
We are a self-funded grassroots effort created by and for our 50+Plus community right here in Central Florida!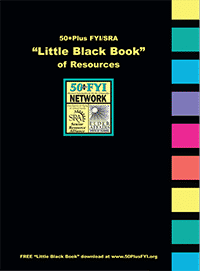 "Little Black Book" of

Resources
Click RED button below.
Submit e-NOTIFY me form  . . .
Select Little Black Book & e-notices you want to receive.
We will e-mail you the download link for the
Little Black Book of Resources.

FREE
Searchable PDF e-Book
Keep it on your PC or Mobile Device for quick reference!
Endorsed by Senior Resource Alliance/Area Agency on Aging of Central Florida
Endorsed by Florida Department of Elder Affairs ©2003-2019.
50+Plus FYI Resource Network, All Rights Reserved.
HOME | Privacy Policy | Conditions
Maintained by Orlando Web Wizard